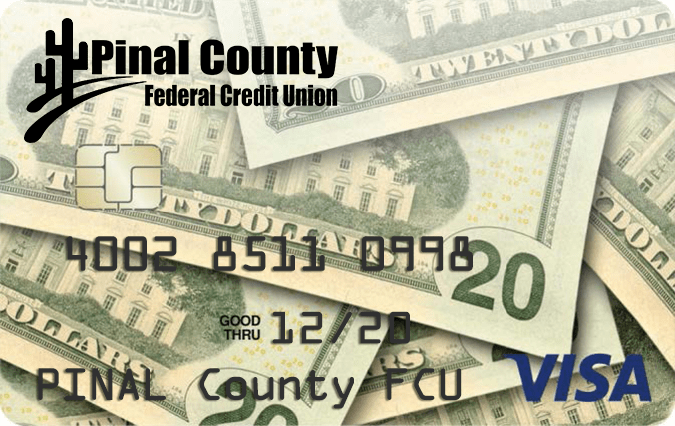 $500 - $1,000 Credit Limits
Secured with your own funds to build your credit
No Balance Transfer Fee
No Cash Advance Fee
No Annual Fee
Several convenient payment options
Credit Cards
Visit our Financial Education Center and Learn how credit cards work, what features to look for, and how to manage a credit card responsibly.
Visa Credit Card Disclosure
Annual Percentage Rate (APR) for Purchases, Cash Advance and Balance Transfer
Secured VISA®

14.90%

Grace Period for Purchases
25 Days
Estimated Payment
2% of Balance ($20 minimum)
Annual Fee
None
Minimum Finance Charge
None
Transaction Fee for Purchases
None
Application Fee
$35.00
Foreign Transaction Fee
Single Currency - 0.80%*
Multiple Currencies - 1.00%*
Late Payment Fee
$25.00 **
Cash Advance Fee
None
Return Check Fee
$25
* of transaction amount.
** if ten (10) or more days late.
Low Rate Card
Rewards Card
Secured
Rates as low as

7.90%

Rates as low as

9.90%

Fixed Rate

14.90%

Credit Lines starting at $500
Credit Lines starting at $500
$500 - $1,000 Credit Limits
No Cash Advance Fee
No Cash Advance Fee
Build or repair credit
No Annual Fee
No Annual Fee
No Cash Advance Fee
No Balance Transfer Fee
No Annual Fee
1 point for every $2 purchased
Secured with your own funds to build your credit
Redeem rewards for cash, travel, gift cards and merchandise
Are there special qualifications for a Secured Visa?
You must be a PCFCU member for at least 90 days and must have the ability to deposit sufficient cash to secure the card by 120% of the approved credit limit.
Are there any fees on my Secured Visa?
There is a one-time application fee of $35 but there are no monthly or annual fees. However, if your payments are not made on time, you may be subject to a late fee. Please refer to the Visa Agreement and Disclosure and Rate Schedule for additional details.
What number do I call to activate my card?
To activate your Visa Credit Card please call 855-340-8767.
What number do I call to cancel my card if it's lost/stolen?
To report a lost or stolen credit card please call 855-340-8767.
When does interest accrue?
Interest will not be charged on purchases if you pay your entire balance by the due date each month. Balance transfers, convenience checks and cash advances will begin to accrue interest on the transaction date.
Is there a grace period from my due date?
You have 10 days after your due date to make your payment before a late fee is applied.
How do I conduct a balance transfer?
You may request a balance transfer in Online Access under Services or by visiting your local branch.
How do I order convenience checks for my credit card?
You can request convenience checks in Online Access under Help Center/Make an Inquiry or by contacting us at 855-340-8767.
Is there anything I should know before traveling with my Secured Visa?
Before you travel, contact us at 520-381-3100 to let us know the dates and location of your trip.
Go to main navigation