Ability to separate personal and business transactions
Better money management tool to track and control business expenses and employee spending
Access to working capital to help your business grow
Personalized support
Low fixed interest rates
1.5 points for every $1 purchased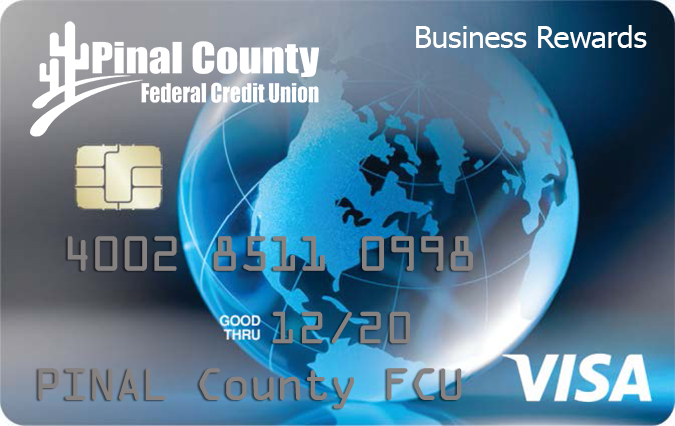 Visa Credit Card Disclosure
Business Rewards VISA®

9.90%

-

15.90%

Grace Period for Purchases
25 Days
Method of Computing the Balances for Purchases
Average Daily Balance (Including New Purchases)
Annual Fee
None
Minimum Finance Charge
None
Transaction Fee for Purchases
None
Foreign Transaction Fee
Single Currency - 0.80%*
Multiple Currencies - 1.00%*
Late Payment Fee
$25.00 **
Cash Advance Fee
None
Return Check Fee
$25.00
* of transaction amount.
** if ten (10) or more days late.
Rewards points expire in 3 years. Transaction limits may apply.
Are there any fees on my Commercial Rewards Visa?
There are no monthly or annual fees on your Commercial Rewards Visa. However, if your payments are not made on time, you may be subject to a late fee. Please refer to the Visa Agreement and Disclosure and Rate Schedule for additional details.
What number do I call to activate my card?
To activate your Visa Credit Card please call 855-340-8767.
What number do I call to cancel my card if it's lost/stolen?
To report a lost or stolen credit card please call 855-340-8767.

When does interest accrue?
Interest will not be charged on purchases if you pay your entire balance by the due date each month. Balance transfers, convenience checks and cash advances will begin to accrue interest on the transaction date.
Is there a grace period from my due date?
You have 10 days after your due date to make your payment before a late fee is applied.
How do I conduct a balance transfer?
Call: (520) 381-3100 or (800) 221-4179 and ask to speak to a Commercial Loan Officer
Submit Online: Form request for contact submitted through email.
Is there anything I should know before traveling with my Rewards Visa?
Before you travel, contact us at 520-381-3100 to let us know the dates and location of your trip.
How do I start earning points on my Rewards Visa?
Every time you make a purchase on your Rewards card, you will begin earning points.
Where can I earn points?
Anywhere VISA is accepted. A list of retailers can also be found at uchooserewards.com.
Where can I view my point activity?
You can access your history of points through SpendTrack. Rewards points will also display on your statement.
When can I redeem points?
It can take up to 40 days for points to be credited to your account. You must first accumulate 1,500 points before they can be redeemed. The points are available to view on uchooserewards.com or the mobile app. Here you can keep track of the points earned, and then shop the online rewards catalog when you're ready to redeem. A Wish List Tracker is also available to notify you when you've earned enough points to redeem a specific item.
How much does it cost to participate?
There's no cost to participate. SpendTrack is free as part of PCFCU Credit Card Program (on reward cards only).
How do I earn points when making purchases?
The points are established at 1 point for every $2 spent. So a $50 purchase would earn 25 points.
Go to main navigation