Home Banking
Pinal County Federal Credit Union Members are Going Green! Our online services save you money on stamps, envelopes, gas and most of all your valuable time. Online Banking, Bill Pay, E-statements & E-notices are all FREE services you can access from home or work any time. Since each member has a share of ownership in the credit union. You would also play a key roll in reducing credit union expenses. Every little bit helps, do it today!
Go Green....Get Green with E-Statements!
Being Green has never been easier. Get your monthly account statements electronically, securely, and faster!
Beginning September 1, Pinal County FCU will begin charging $2* a month for each paper statement mailed.
To avoid paying these fees, we are encouraging all members to take advantage of our FREE E-Statements!
*Statement fee is waived for members 65 & over and youth accounts.
Signing up is as easy as . . .
1. Sign in to your Netbranch account by clicking
here
.
2. Click E-Statements – Enroll Now – Agree (If you agree to the disclosure, terms and agreement) – Click to Continue to SSO E-Statements
3. To access your eStatements in the future, sign in to Online Banking – Click E-Statements – Continue to SSO E-Statements
Netbranch 4.0
Are you ready to take online banking to the next level? With our new Net Branch 4.0, you don't need to use your member account number to sign in! You get to choose your own user name, making it more user friendly and easier to remember!
Mobile Banking
Do your banking anytime, anywhere! Online Banking from the convenience of your mobile device. With Mobile Banking you can check your account status, transfer money, and receive alerts to help you keep your account in check.
Click here for the Mobile Banking page.
Online Bill Payment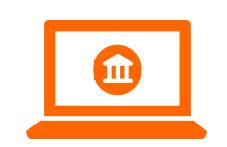 Click here for Bill Pay FAQs information on how to get started!
What it is...
Electronic payment service via the Internet.
What it does...
Provides members with the ability to pay bills via the Internet. Eliminates the need to write and mail checks.
Who's eligible...
Members with a Share Draft/Checking account and access to a personal computer with an internet connection. Business member can have access to a business version of bill pay.
E-Statements
What it is...
Member statements available electronically through a NetBranch account.
What it does...
E-Statements allow members to receive "paperless" statements.
Who's eligible...
All members
Go to main navigation